Survey
The project site is surveyed and 99% accurate data is collected.
BIM | R2R
The project is developed with BIM software in order to eliminate the problems before they occur.
Installation
Productions are installed by our skillful workers in the supervision of a field engineer.

Details
Most suitable details are selected for optimal results.
Production
Production orders are made directly from the BIM software to achieve minimum deviation.
Architectural elements should not only meet your form requirements, they should also provide functional solutions for your design as well. In Desos Precast, we don't just produce decorative element, we also combine smart details with pioneering material Technologies to create something beyond a cladding panel.
Ageless & Pioneer Details
Latest Technology Construction Materials
BIM from Design to Field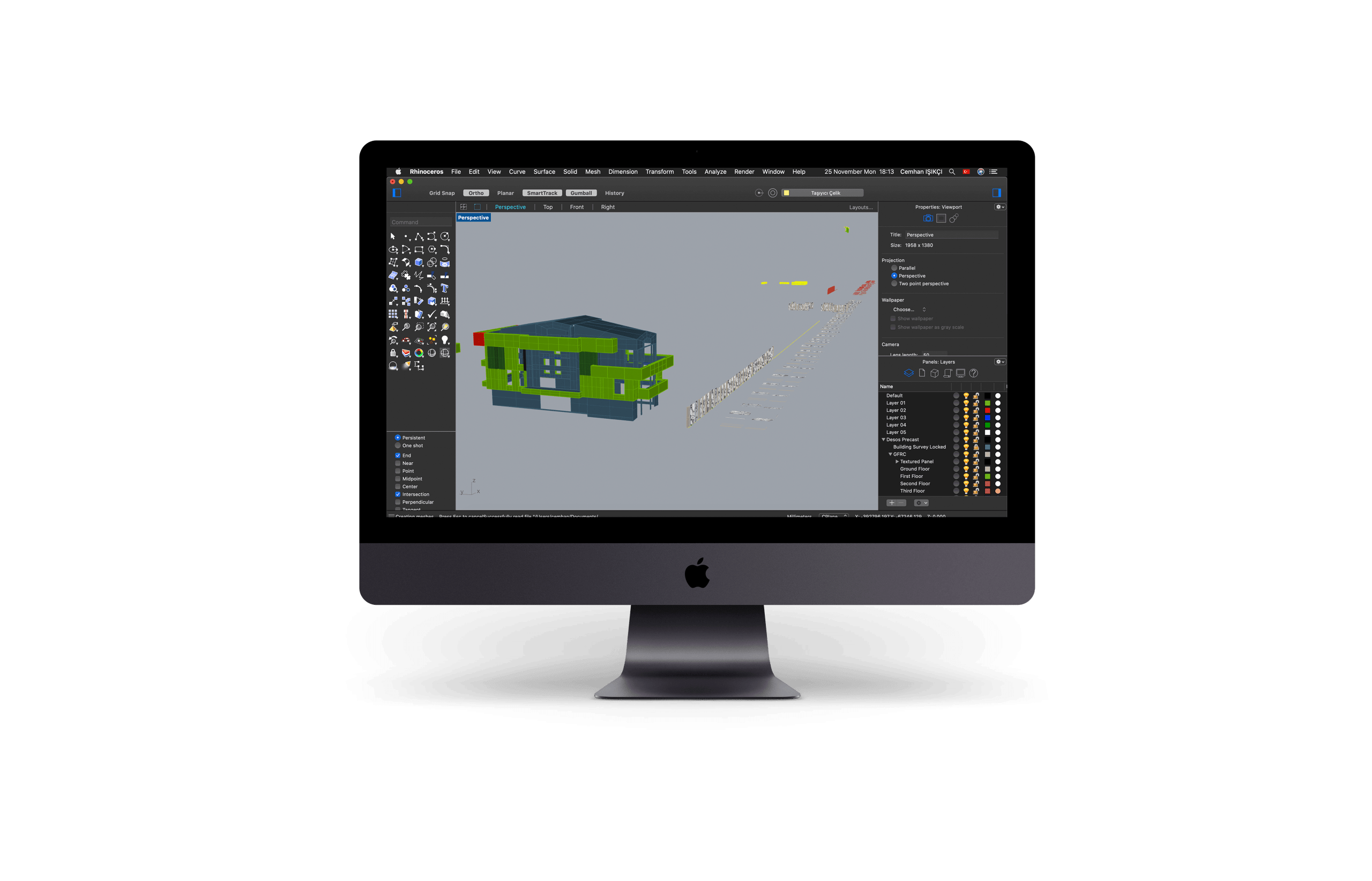 Our philosophy
As Desos Precast, we believe in innovation and quality. While finding solutions for our customers, we improve ourselves and the industry. Due to our client oriented mentality, we find the chance to gain new experiences each day.
What separates us from other manufacturers
Desos Precast is not a company run by a status quo. While adopting Cemaleddin Işıkçı's " Nothing is Impossible " philosophy, teaches us to find solutions for our clients, no matter how impossible it seems. This passion is the key which led us to improve, innovate and show our clients what they thought impossible is in fact possible.
How to guarantee a good project Kick-off
The steps for a proper project Kick-off are as follows;
Correct planning
Correct material selection
Correct details
Correct project management
How to balance aesthetic appeal with function
The advantages of materials like GFRC and UHPC are their high form adaptive and high performance capabilities. Desos' unparallel R&D department uses these advantages and tailors the recipes for each unique proect, allowing us to give and take to create the optimal slution.
How does the process work
Eventhough each project may follow a different path, our most common approach is as follows;
Survey data is cross checked with the project drawing.
The project drawing is updated accordingly and sent to the architect for approval.
Production drawings are created from the approved project.
The elements are produced and shipped to the site for installation.
After the installation is completed, As-Built drawings are created and checked
What Other Say
"Sed ut perspiciatis unde omnis iste natus error sit voluptatem cusantium natus error sit omnis iste natus error sit voluptatem accusantium."
What Other Say
"Cusantium natus error sit omnis iste natus error sit voluptem accusantium. Sed ut perspiatis unde omnis iste natus error sit volatem."
What Other Say
"Voluptatem accusantium ed ut perspiciatis unde omnis iste natus error sit voluptatem. Cusantium natus error sit omnis iste natus error"
Desos Precast Around the World