65 MPa
Compressive Strength
Unlimited
Color, Texture & Size Combinations
Heat Insulation
With Stone-Wool
12 mm's thick, yet formidable
Discover DesoStone with its democratic solutions for facade cladding. Mix up colors, sizes, and textures and create the most dynamic facades.
Sınırsız Kombinasyon
İstenilen her form, doku ve renkte üretilebilen DESOCON mimari detaylarda hareket alanı sağladığı gibi tasarımlarınızın minimum sapmayla gerçeğe dönüşmesine izin verir
Yüksek Performans
Özel olarak geliştirilmiş reçetelerimiz, diğer cam elyaf takviyeli beton türlerine göre daha yüksek mukavemet değerlerine ulaşmamızı sağlıyor
Yangın Koruması
DIN 4102, A1 Sınıfı yangına dayanım özelliği bulunan DESOCON aynı zamanda düşük ısıl iletkenlik değerleri sayesinde mutlak emniyet sağlar
AR Tipi Cam Elyaf
DESOCON üretiminde yalnızca AR (Alkali Resistant) tipi cam elyaf kullanıyoruz çünkü betonun bazik yapısı sebebiyle normal cam elyaflar yıllar içinde eriyerek malzemeyi tamamen kullanılamaz hale getirir
Montaj
Onlarca montaj detayı arasından proje odaklı detaylar oluşturularak hızlı ve hassas bir montaj sağlanır.
İzolasyon
Size ve projenize göre tasarlanan, modellenen ve üretilen DESOCON elemanlar, cephede sürekli bir akışa izin verir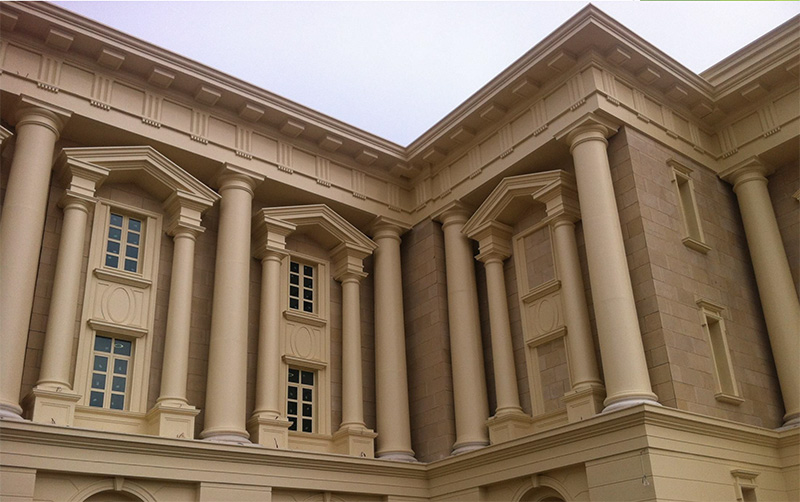 Material Performance
You can see the physical properties of DesoStone below, see if it fulfills your needs and if not select a different Desos product which will.
Compressive Strenght:
fc: 40-65 N /mm2
Flexural Strenght:
MOR: 15-25 N / mm²
Tensile Strenght:
fct: 5-12 N / mm²
Limit of Proportionality:
LOP: 7-9 N / mm² 
Expansion Limit:
eu: 0,5-4 %
Modulus of Elasticity:
10-15 kN / mm² 
Density:
1,8 – 2 kg / dm³ 
Fire Resistance:
(DIN 4102) A1
download material safety data sheet